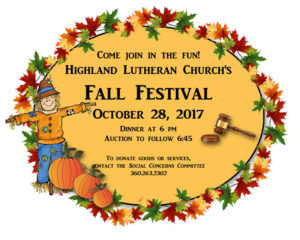 Fall Festival
Mark your calendars early. Join us for a free meal, great fun and a silent auction. Proceeds benefit our Lewis Rive Mobile Food Bank and Highland's Social Concerns Committee.
The holidays are fast approaching and both organizations assist families in need in our area.
The auction is also a great way to purchase gifts for your loved ones or donate your talents and/or creations.
Saturday, October 28, 2017
Dinner at 6 pm, Auction to follow 6:45 pm
at Highland Lutheran Church
About the Food Bank
The Lewis River Mobile Food Bank brings food to feed the hungry people of North Clark County, Washington.  The food bank relies on volunteers and the donations of the community to do its work. Your help is always needed.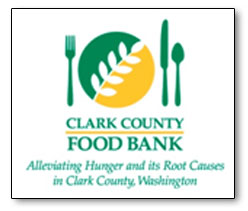 To see the current schedule of deliveries, please visit the Distribution link.
OUR MISSION The Lewis River Mobile Food Bank provides people with emergency and supplemental food in under-served areas in north Clark County.
Food will be distributed without regard to race, sexual orientation, nationality, religious affiliation or lack of religious affiliation.
Lewis River Mobile Food Bank is proud member of the Clark County Food Bank. We are also affiliated with the Oregon Food Bank. Sharing these resources allows us to access a wider variety of foods for our clients.